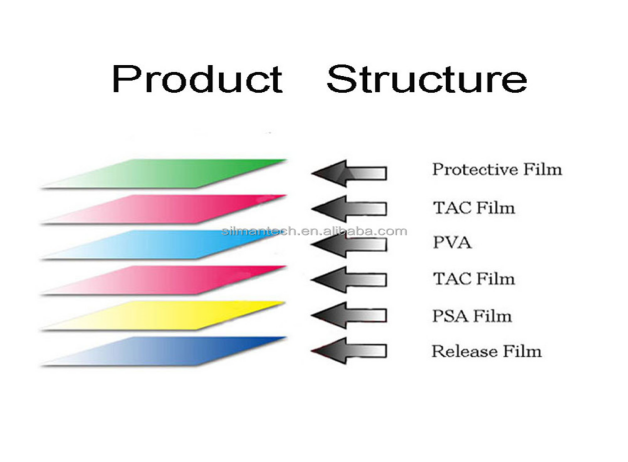 The full name of a polarizer is a polarizer. Those who have studied physics should know what polarized light is. The imaging of liquid crystal displays must rely on polarized light. All liquid crystals have two front and rear polarizers closely attached to the liquid crystal glass to form a liquid crystal film with a total thickness of about 1mm. If any polarizer is missing, the liquid crystal film will not be able to display images.
Polarizer is one of the important materials for liquid crystal displays. It is a composite material made of polyvinyl alcohol (PVA) stretched film and cellulose acetate film (TAC) through multiple composite, stretched, and coated processes. Realize high brightness and high contrast characteristics of liquid crystal display. Polarizers account for about 10% of the cost of TFT-LCD (Thin Film Transistor Liquid Crystal Display) panels. Since its production technology brings together a variety of technologies such as polymer materials, microelectronics, optoelectronics, thin films, high-purity chemistry, and computer control, polarizers have a relatively high technical content. At present, there are only a handful of domestic companies that can produce polarizers.
The earliest polarizer was mainly composed of a PVA film that can generate polarized light in the middle, and a TAC (transparent triacetate fiber film) protective film was laminated on both sides. In order to facilitate the use and obtain different optical effects, the polarizer supplier should apply pressure sensitive adhesive on both sides and then cover the release film at the request of the liquid crystal display manufacturer. This kind of polarizer is the most common TN common Full transmission polarizer. If you remove a layer of release film and compound a layer of reflective film, it is the most common reflective polarizer.
The pressure-sensitive adhesive used is a high-temperature and moisture-proof pressure-sensitive adhesive, and the PVA is subjected to special dipping treatment (dye series products). The polarizer made is a wide-temperature type polarizer; add a barrier to the pressure-sensitive adhesive used The components through which the ultraviolet rays pass can be made into anti-ultraviolet polarizer; the birefringent optical compensation film can be compounded on the original transmission film to make the polarizer for STN; the light redirecting film can be made by compounding the original transmission film on the light redirecting film. A wide viewing angle polarizer or a narrow viewing angle polarizer; coloring the pressure-sensitive adhesive, PVA film or TAC film used is a color polarizer. In fact, with the continuous development of new liquid crystal display products, there are more and more types of polarizers, which are used more and more widely.