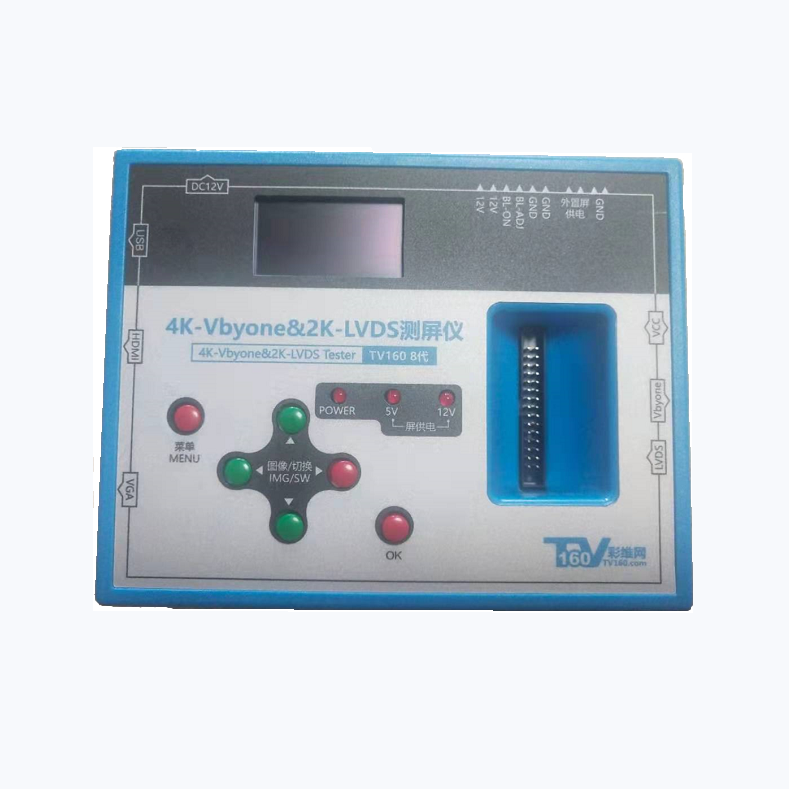 TV160 4K-Vbyone&2K-LVDS screen tester:
Features:
1. It can support 2K and 4K TV screen and monitor screen tests, and the output signals are: 4K-Vbyone signal and 2k-LVDS signal;  
2. Support USB to play test pictures, you can customize the video and pictures to test the screen or aging screen according to your needs;
3. With HDMI and VGA interfaces, it is convenient to input such signals;
4. Built-in test pictures: five images of red, green, blue, black and white field, which meet the needs of conventional screen test;
5. Perfect protection circuit, when the screen wire is wrongly connected or the screen body is not connected, there will be a prompt when the screen is turned on;
6. Support U disk upgrade, upgrade is more convenient, screen parameters can be added by contacting customer service, and the upgrade program will be sent later, and the U disk can be upgraded directly;
7. There is an external backlight control interface and an external screen power supply interface to meet the needs of screen measurement in special scenarios;
8. The compatible resolutions are as follows:
2K-LVDS: 1024*768; 1366*768; 1280*800; 1280*1024; 1440*900; 1600*1200; 1920*1080; 1920*1200; (can be added according to user needs, report screen parameters, U disk Just upgrade).
4K-Vbyone: 3840*2160-1FC (1 partition); 3840*2160-2FC (2 partitions); 3840*2160-LGD (for LG screens, with better picture quality when LG screens); 3840*2160-120Hz ( 4k-120Hz dual-screen line test-dual-screen line conversion board required); 1920*1080-JEIDA (for high-definition screen); 1920*1080-VESA (for high-definition screen-2 sets of Vbyone signals);
1920*120HZ-JEIDA (for 4 groups of Vbyone signal screens);
1920*120HZ-VESA (for 4 groups of Vbyone signal screen)